DEMONBREAKERS
When th're is something strange in thy fantasy city, who is't shall thee summon? DEMONBREAKERS!
If you're thinking Ghostbusters, but in the setting of Monty Python and the Holy Grail, you're in the right headspace for DEMONBREAKERS... Lets go!
You are Demonological Lorists, recently unemployed after the College Arcane terminated your grant due to your allegedly sloppy methods and questionable conclusions. In desperation you've started an exorcism business, just as Hell's Gates have opened in your fantasy city, unleashing a torrent of demonological activity.
No GM required! all players will cooperate to create scenes, introduce consequences, and resolve conflicts. The rules are one page. The game uses mechanics found in no dice, no masters games. And there are card-driven prompts to help players embody npcs and opposition.
Press Coverage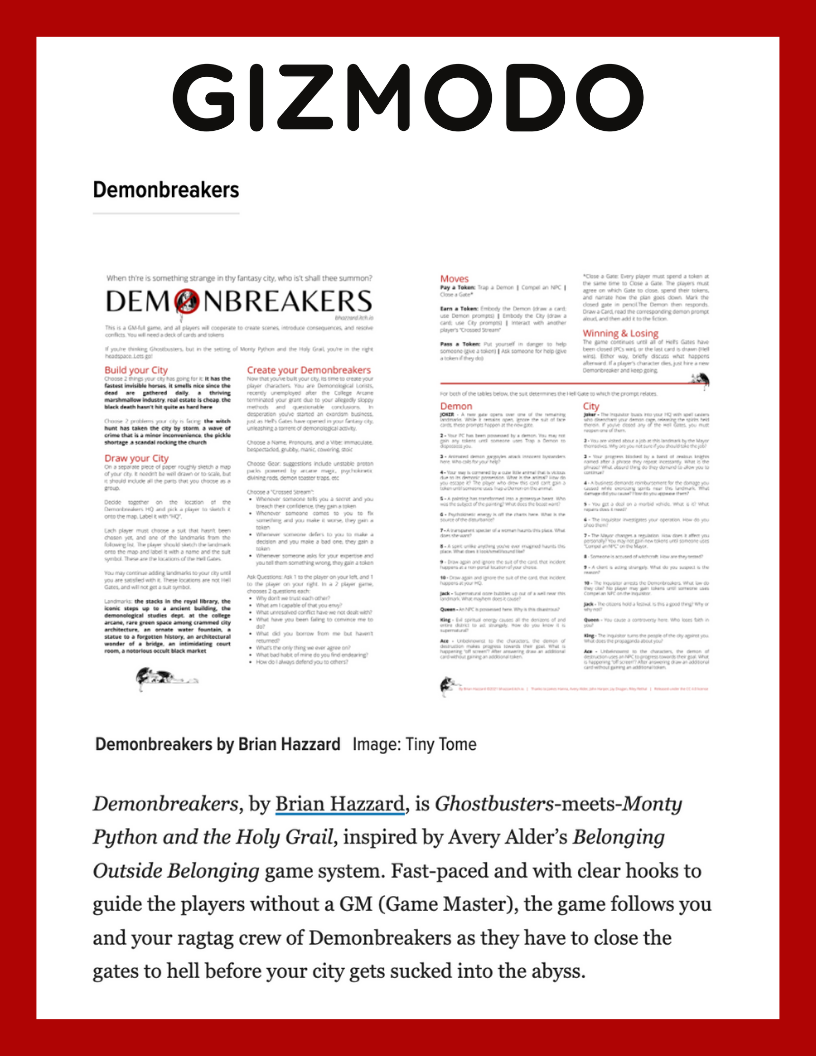 Gizmodo: https://gizmodo.com/tiny-tome-ttrpg-anthology-hands-on-6-best-games-1848700273/slides/3

Acknowledgements & Licensing
This is a hack of the fantastic little one page game "Sabotage" by James Hanna (https://bullfrogjam.itch.io/sabotage). Released under the CC BY 4.0 license.
Purchase
In order to download this game you must purchase it at or above the minimum price of $7.90 USD. You will get access to the following files:
Demonbreakers - A5 - with cover.pdf
252 kB
Community Copies
Support this game at or above a special price point to receive something exclusive.
Donate a Community Copy
If you have the financial means, you may donate a Community Copy. This helps fund the further development of this and other games by Instadeath, and provides a free copy so that price won't be a barrier for someone else to enjoy Demonbreakers.
Thank you for your generosity!
Claim a Community Copy
If you are a member of a marginalized community, or unable to afford the game for any reason, you can claim one of these copies, no questions asked.

Community Copies are generously donated by other community members so that price won't be a barrier to your enjoyment of Demonbreakers.